LisaLise Blog Award
Well goodness me. This blog has just received an award.
It would seem LisaLiseBlog has jumped right into spot 39 in the top 100 organic beauty blogs of the entire internets.
(insert happy dance and smile from ear to ear)
This is all because of you, you know.
You've been hanging around here and willingly reading my rants, raves, and reviews on ingredients and other cosmetics-related things.
You've been giving me input to write even more stuff through your wonderful and inspiring comments.
So, thank you!
The flowers, fruit, and thank you note in that pic above is just for you.
You rock!
Now take a bow please for being so awesome and fabulous.
Here's my official award graphic, sent to me with a personal high five from the folks at Feedspot.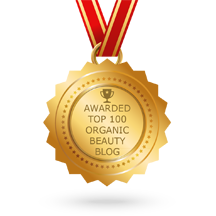 Thanks again for helping make this happen!